Are you familiar with Marking Paint?
We can assist if you're looking to repaint your parking area or decide the kind or type of marking or product that is the best for your particular needs.
This guide on the best pavement marking paint and details on different projects will help you take the next step in your project and make the right choices to achieve the most effective outcomes.
Marking Paint-Some Common Types
Each marking paint has distinct durability levels and advantages for a specific setting. Think about the following types and types of pavement markings to decide the best one for your particular project:
Solvent Based Paints
A lot of solvent-based paints are prohibited due to environmental concerns. Certain solvent-based paints are legal and can be used in different areas in the United States. Still, it is best to talk to an expert pavement marking company or manufacturer before deciding on solvent-based paint for your particular project.
Use of Solvent-Based Paints
The primary benefit of this kind of coating is that it doesn't freeze. It can be used in colder temperatures without issue, unlike water-based paints that can break down in colder temperatures.
Oil-based paints are extensively used because of their flexibility and affordability. However, because of environmental concerns, many prefer water-based paints. They provide a more sustainable option and easy cleanup and disposal.
Anyone can find solvent-based paints in a variety of diversities.
Acetone Based Paints
This kind of traffic paint is appropriate for use in certain parts of the mid-Atlantic area. Acetone paint is an excellent product for parking garages and parking lots if it is deemed acceptable by the purchaser and can be used within the place where it will perform the work.
Acetone paint allows the painting to be completed in lower temperatures than water-based traffic paints.
This is a great product to stripe in the springtime and late autumn and also for temporary striping in winter. While it has temperature limitations, it's far more user-friendly during winter.
The drawback with the paint, however, is that it cannot be removed using the solvent acetone, which is dangerous waste. Traffic engineers should remove it correctly.
Epoxy Paints
Epoxy paints are two-part components that create an improved product over traditional paint. They are ideal for high-traffic areas because of their long-lasting properties.
Epoxy paint lasts longer than conventional road marking paint. It protects against abrasion and impact. This makes it suitable for application to concrete.
However, concrete surfaces need to be prepared before applying the epoxy. The epoxy bonds firmly to these surfaces due to the chemical reaction between the two ingredients.
Epoxy Paint Products
There are many epoxy products. The paints for highways require special equipment and tools to apply. This is because catalysts and resin are mixed in specific ratios to produce the final coating of epoxy.
Epoxies for highways are restricted to use on roads as well as some parking areas and perhaps certain parking garages, contingent on the capability to access the site using the required equipment, which is often very large.
Use of Epoxy Paints
Paints for interior epoxy can be employed for warehouses and industrial and commercial structures. These two-component paints can be mixed into pails and painted using walk-behind equipment.
However, the equipment should be large enough to move the heavy substance. Most of these are intended for use only in interior areas. Interior products also require an additional cure duration of up -72 hours.
Due to their efficiency, epoxy paints can be more costly than traditional paints due to their effectiveness.
Epoxy paint is generally less sensitive to the factors that affect application than thermoplastic alternatives. It also provides the most effective level of night-time reflectivity, even in wet conditions.
Epoxy is very durable and eliminates the necessity to repaint roadways annually. On roads with low or moderate traffic, Epoxy paints have the potential to last for over four years and can be applied to as low as 35degF.
Water Based Paints
Due to their water base, these paints aren't as detrimental to the ecosystem as solvent-based paints. They are the cheapest type of paint available on the market and are the eco-friendliest alternative.
They dry quickly under warmer weather, but drying times are subject to humidity. They are also easy to clean up and easy cleaning.
They are the most frequently used colors for stripers. You can also use water-based paints to paint roads, parking lots, and garages for parking, as well as parking spaces that have been sealed with coal tar.
Use of Water-Based Paints
The benefits include simple use, simple cleanup, and low odor. However, the biggest drawback of water-based paints is that they cannot perform well in colder temperatures.
Water-based road paint is among the most brittle pavement marking materials. This kind of paint is not recommended when temperatures are 50 degrees F or below.
This can reduce the season of water-based lacquer for northern regions. Water-based traffic paints for highways usually contain ammonia to help in drying. However, temperature and humidity can influence the drying process of the color.
Pavement Marking Paints
Pavement marking tapes are utilized to create permanent and temporary pavement markings. On specific roads, temporary striping can be done using videos that can be removed.
These tapes may be used for construction projects and then removed once the work is complete. Additionally, you can use temporary covering tapes that can cover lines already used during construction.
Permanent tapes are also utilized for roadways and intersections. In cold conditions, pavement marking tapes may be embedded into asphalt during paving to minimize wear.
Alternatively, they may be incorporated into the paving to reduce the damage caused by snow plowing.
Marking Paint- Thermoplastic Paint
As the name suggests, this material is composed of plastic. It is a different kind used to mark pavements commonly seen on highways. Thermoplastic pavement markings may be used in various ways, including preformed ribbons, extruded ribbons, and spray.
Certain states require a particular kind of application, while others may not allow certain other types of applications.
Preformed, extruded, and ribbon materials are generally applied at 90 millimeters or more in thickness. They are placed on the roadway surface for about 1/8 inch or a little higher.
Spray thermoplastics are typically used with a thickness of 60 mils at or lower, giving a lower profile similar to paint. The preformed thermoplastic, as its name suggests, has already been formed in the shape of a particular line or length.
Application of Thermoplastic Paints
The application of thermoplastics is done using heat. They are applied with a special torch that can heat thermoplastic and asphalt. This causes the thermoplastic material to join the asphalt.
Ribbon, extruded, and spray thermoplastics are applied using specialized trucks or other equipment. The equipment melts the thermoplastic up to about 400 degrees, and then the thermoplastic is applied in liquid form.
When the material cools, it retains its shape or the size of lines. Glass beads are used to increase reflection.
After drying, it's more durable than other kinds of pavement markings. It can stand up to more abrasion and wear than different kinds of striping. This means that it lasts longer than other markings. However, it's also costlier than paint.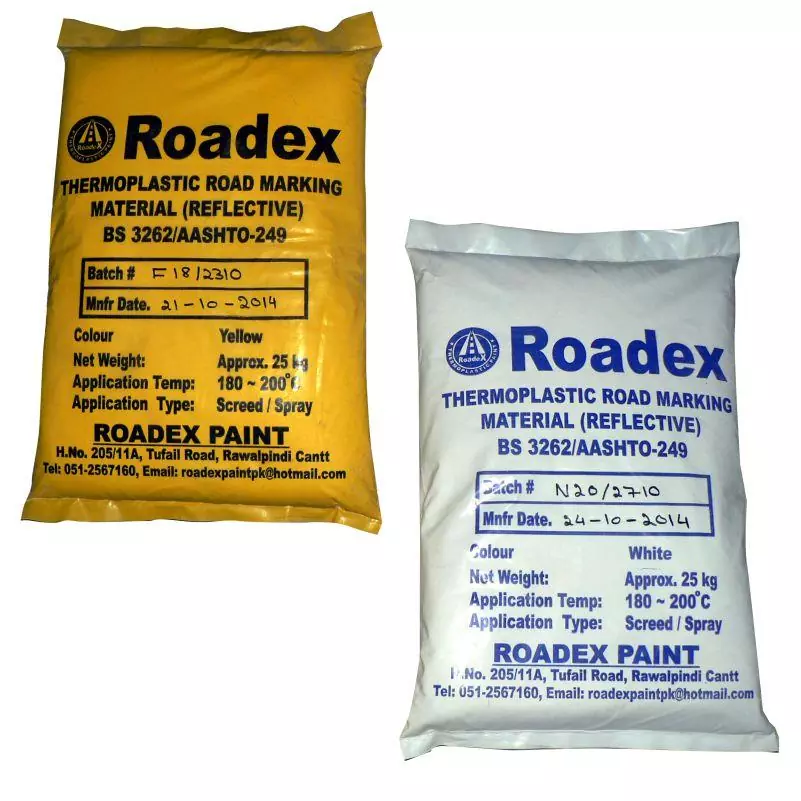 Role of Reflectiveness in Marking Paint
The markings on the pavements are all reflective. There are a variety of glass beads, each being manufactured or cut differently for a particularly thoughtful application.
Glass beads must be used at specific rates and adequately embedded into the marking materials for the pavement to create a reflective marking.
Reflective pavement markings made of bead-like glass are created using an instrument that can be held by hand and a line striper. It distributes beads with a hand. Beads give the paint the ability to reflect light at night.
Factors involved in Choosing Marking Paints
While you look over the options available for marking your pavement material, it is essential to be aware of several aspects.
You should ask yourself these questions to figure out which is the most suitable marking paint for your project:
Long Lasting Marking Paint
Consider the place where you'll be using these Marking Paints. Is the pavement marking required to be very robust? Are you marking a heavily frequented road, a frequently-used parking lot, or a back road? Areas that are less traveled will require more durable road markings.
If you're in a high-traffic area, it's worth investing an extra amount in putting on a tough product that doesn't need regular re-application.
Effect of Weather Conditions
Do you have lots of rain? What are your typical conditions during winter? Will roads be covered with ice or snow?
Regions with moderate climates and low rainfall require fewer durable forms for marking the pavement. You might be able to use conventional paint even in areas that are heavily traveled.
Suppose you know the surface is susceptible to damage under extreme weather conditions. In that case, however, it's best to change to a more substantial marking paint.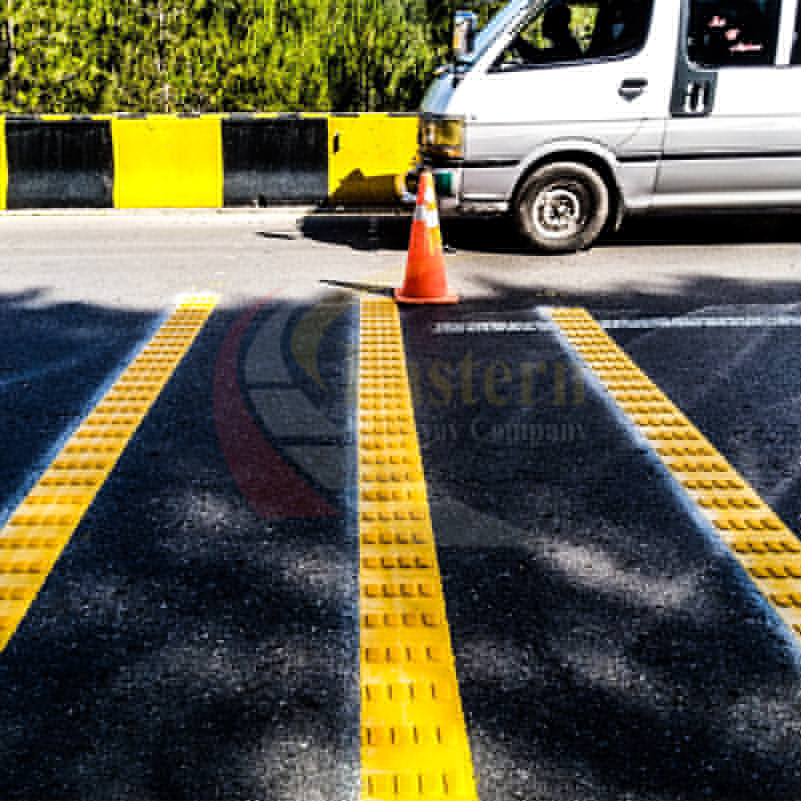 The reflectiveness of Pavement Marking Paints
In dim or stormy conditions, reflective properties are vital for road markings that impact the safety of drivers.
Pavement markings reflect the light of the headlights on cars to notify drivers and make the pavement markings clear for motorists. Traffic paint and signs must adhere to the lawful requirements for reflectiveness.
State and municipal organizations are expected to design and implement an assessment and management plan which maintains reflectivity at or over the set minimum standards.
It is essential to be aware of any requirements regarding reflectivity for the type of project you are working on and select the correct mark to satisfy those standards.
Budget for Marking Paint
Like all products, pricing can vary significantly between different types and road markings. The material used and the application method employed to affect the total cost. Take into consideration your budget when you choose the pavement markings to apply.
Remember, you need to come up with a realistic budget based on your project's needs. The answers to these questions can aid you in determining how much you'll require to finish the project promptly.
Conclusion
Eastern Highway always brings the most authentic and effective information about Road Safety Products and Traffic Engineering Services to facilitate people from all over the world. To get more latest updates keep Visiting the website.