Do you know why knowing about Safety Signs and Symbols is important?
Being human, we are prone to make mistakes that end up in terrible accidents. To warn the public about some defined hazards and threats, many safety signs are designed. Let's dig deeper and find the meaning of safety signs to keep everyone safe including us.
Defining Safety Signs and Symbols
Defining Safety Signs and Symbols is very easy. They are striking labels explaining the general protocol and safety directions in workplaces, institutions, or public spaces. Even though most Safety sign and Symbols are standardized all over the world, however, they can occasionally differ dependent on the country or region.
The need for safety signs arises to transfer safety data that exceeds language blocks and can be understood internationally.
Understanding Functions of Safety Signs and Symbols
Safety Signs are designed because there is a necessity to regulate a structure of giving safety information. This information, in addition, should not be dependent on words too much so that they can be understood by everyone who comes across them.
Safety Signs and Symbols are used as a safety communication medium. They aid in sending a clear message, instructions, and warnings. Safety Symbols enhance the level of understanding of people. They are beneficial, particularly in situations where a rapid comeback is required.
Visual aids, Safety Signs and Symbols tend to decrease the risk of accidents and produce consciousness of dangers in precise zones or close to certain materials.
12 Types of Safety Signs and Symbols
Identical safety signs and safety symbols are categorized by pictures, pictograms, shapes, words, phrases, sentences, or statements. Individual profiles of each sign carry a diverse meaning, and each color signifies the type of safety it defines.
1.Caution Signs and Labels
Caution Signs are designed with the purpose to warn emergency respondents. They are also used to warn the people who often go to spaces with potential hazards and encounter many regulatory requirements.
Research laboratories, Shops, and Manufacturers' places where hazardous resources are utilized or warehoused should have standard caution signs at entrances. Major Companies upright a caution sign in a pamphlet holder above or near the room number poster with a door or block at the respective entry.
Caution Signs are a combination of all requirements for National Fire Protection Association (NFPA) 704 Hazardous Materials, biohazardous and radioactive materials authorization, entry necessities, nutrition and beverages ban, and lab exchange info.
Examples of Caution Signs include:
Biohazards
Compressed gases
Cryogens
Lead
Radioactive materials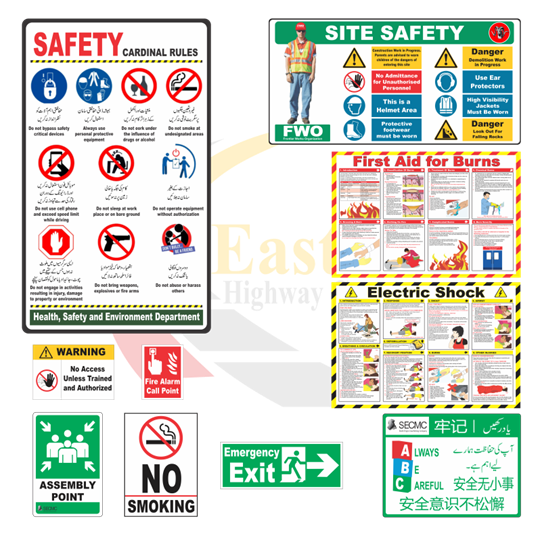 2.Chemical Signs and Labels
Chemical hazards can be encountered at different workplaces. Places, where a Chemical hazard can occur, are hospitals, ranches, industrial facilities, construction sites, transportation centers, and more. Chemicals are mostly invisible making them a danger for someone who is exposed. It is difficult to identify spots where they can be and arrange containment devices with safety signs and labels.
Safety from such chemical hazards includes identifying containers, tanks, and storage areas, post PPE information, and more with symbols or adhesive labels available in many sizes and supplies. Chemical Signs are usually built with a protective laminate layer that battles moisture, scrape, UV, and chemicals
The following are two types of Chemical Safety Signs and Symbols
Signs for Hazard Communication
Informative Signs for Safety Instructions.
Examples of Chemical Safety Signs and Symbols include:
Explosive Chemicals
Flame Signs
Acute Health Hazard Chemicals
3.Confined Space Signs and Symbols
Confined space signs are used to recognize areas that need approved or permit entry only. Confined Spaces are not designed to accommodate any human constantly. Accordingly, they do not have sufficient ventilation, light, or comfort of exit compulsory to guarantee safety. Based on these needs Confined Space Signs are posted by the entry. They are principal to a facility's capacity to keep its workforce and visitors safe around these risky zones.
These Safety Signs and Symbols show the essential protective equipment for confined spaces, together with gloves, eye protection, or a hearing guard. Confined space signs are accessible in many sizes and materials, with high-performance polyester, plastic, and aluminum.
Confined space also sometimes comes with text options, like "Do Not Enter." Signs are accessible with OSHA(Occupational Safety and Health Administration)-biddable headings, signal words, and safety signs, such as the danger symbol.
Some Hazards in Confined spaces include:
Poor air quality
Toxic gases could make the worker ill or cause the worker to lose consciousness.
Asphyxiants –Asphyxiants are gases that can displace oxygen in the air. Asphyxiants consist of argon, nitrogen, or carbon monoxide.
Chemical exposures because of skin contact /ingestion/inhalation
Fire hazard.
Process-related hazards
Physical hazards – sound, heat/cold, radiation, vibration, electrical, and insufficient lighting.
Safety hazards consist of moving parts of equipment, structural hazards, engulfment, entanglement, slips, or falls.
Some examples of Confined Space Signs include:
Danger Confined Space Floor Sign
Danger: Confined Space Entry Can Be Fatal – Wall Sign
Warning – Confined Space Label
4.Construction Site Signs
Construction sites are very dangerous places where many types of hazards can cause accidents. Construction site signs are made to decrease the peril of accidents and injuries. They are used to protect workers and community members from injury. Construction signs are used to identify possible hazards and dangers, guiding the workers or companies to selected first aid sites and emergency equipment.
Another function of construction site signs is to guarantee site safety, by playing a vital part in the efficient day-to-day running of the location. As a result, pertinent and satisfactory construction site signs are compulsory by law. Eastern Highway offers an extensive range of construction site signs.
Examples of Construction site Signs include:
Warning Signs
Mandatory Signs
Prohibition Signs
Safe Condition Signs
Fire Equipment Signs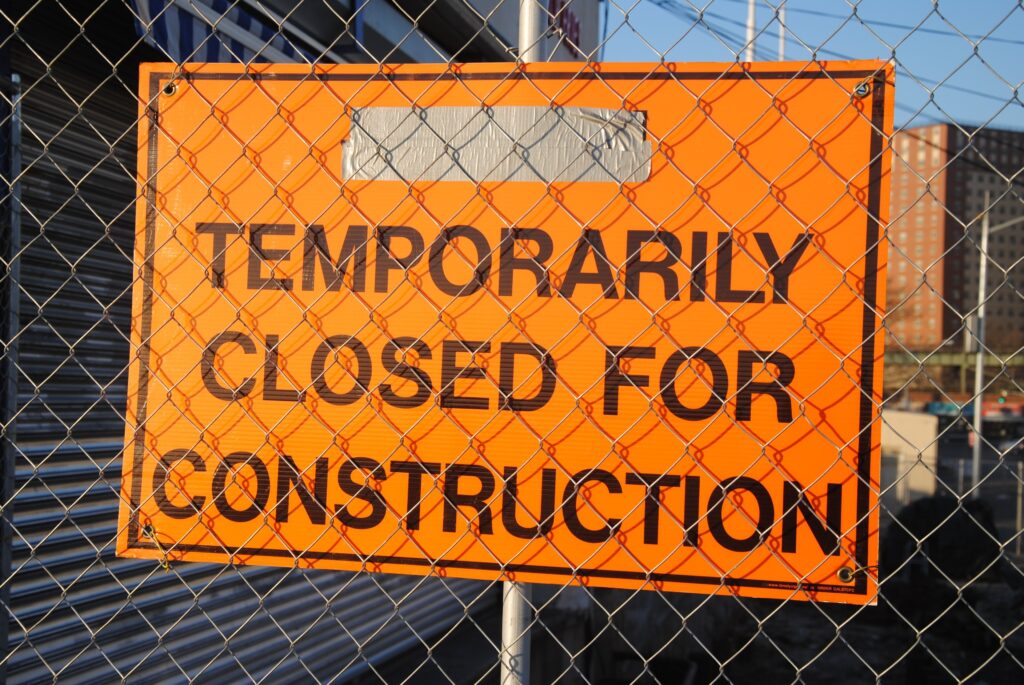 5.Custom Safety Signs and Symbols
Custom signs are used by companies to alert their staff, keeping them safe and working. Custom safety signs can be customized as blank sign or uphold proper workplace safety messages. Custom Signs are made in compliance with OSHA sign headers and with specific instructions. Custom Safety signs and Symbols come in aluminum, plastic, foam adhesive, adhesive vinyl, magnetic, etc.
Examples of Custom Safety signs and Symbols include:
Danger Sign-It is used to identify a hazardous situation. Such a situation can cause someone to get severe injury or death. Its use is limited to dangerous circumstances.
Warning Sign- It shows a hazardous situation that can cause fatal injuries to someone.
Caution Sign: This shows a hazardous situation that can cause a minor or moderate injury.
Notice Sign: It shows information well thought-out as essential but not directly hazard-related
6. Danger Signs
Danger Signs are signs used to warn when a hazard or a dangerous condition is expected to be fatal. In the Danger Sign, the word Danger is added inside a red oval which in turn is inside a black rectangle and often features other warning Signs. Danger signs are used for many purposes. They can warn of risky situations like fuel storage, radiation, high voltage, chemicals, open holes, and much more.
Examples of Danger Signs include
Fire safety signs
Emergency exit signs
Road traffic regulations within the workplace
Prohibition signage
7.Electrical Safety signs and Symbols
Electrical Safety signs and Symbols are identifiable symbols that caution of or recognize possible electrical hazards allied with the site or substances. Electrical Signs are made up of images, keywords, shapes, phrases, or statements. These signs are mounted on walls, boards, buildings, entrances, machines, equipment, transports, roads, or any observable area.
Electrical signs are formalized with bold backgrounds. They carry some important information and serve as significant cues. They are helpful for unqualified workers and people far and wide. There are mainly four categories of Electrical signs:
Emergency
Mandatory
Warning
Prohibition
8.Flammable signs
Flammable signs are warning signs that show the incidence of flammable gas or liquid. The term Flammable means the material can be without difficulty set on fire if exposed to a source of blast-off. Flammable materials range from spirits and fuel to paper and wood. It means that all workrooms are at risk to variable degrees.
Where there is a flammable material, it must be ensured that a flammable sign is used to help recognize it under the guidelines of Control of Substances Hazardous to Health (COSHH). Flammable signs are present on the vessel of any flammable substance. Companies should keep a flammable gas symbol on separate containers, as well as in a prominent room in the part where the flammable material is stockpiled.
Dependent on the kind of substance, there may be a necessity to use an explosive sign or oxidizing symbol. In case any material can exothermically counter-react with other chemicals, which can burn starved of a naked flame. These materials are extremely volatile and must be held with so much care. Examples of Flammable Signs include:
Flammable
Explosive
Combustible materials
9.Forklifts Signs
Forklifts are controlling, vital equipment used in a warehouse to perform certain operations. However, their strength can source disastrous damage and injuries when not used with care. Forklift signs assist the workers and staff of the warehouse to stay alert to these Heavy machinery's possible dangers and hazards.
Forklift signs are made with bright colors and large, easy-to-read font to help grab the attention of passers-by. Floor signs are made with industrial-grade, low-profile vinyl that can endure forklift traffic flow. They are resilient to compounds, water, and many other materials. In other words. The forklift safety signs are made as hard as the surroundings they serve.
Examples of Forklift Safety Signs and Symbols
Warning Battery Charging Sign
Warning Moving Forklift Sign
Warning No Forklifts Sign
Warning Watch for Lift Trucks Sign
10.Health Safety Signs and Symbols
The health safety signs show that some container has chemicals that can cause human health effects. The harmful effects include cancer, gene mutation, reproductive health effects, respiratory sensitivity, and organ toxicity.
Health hazards include:
Chemical hazards (diluents, adhesives, paints, toxic specks of dust, etc.).
Physical hazards (sound, radiation, heat, etc.).
Biological hazards (transferrable diseases).
Ergonomic risk factors (heavy lifting, repetitive motions, vibration).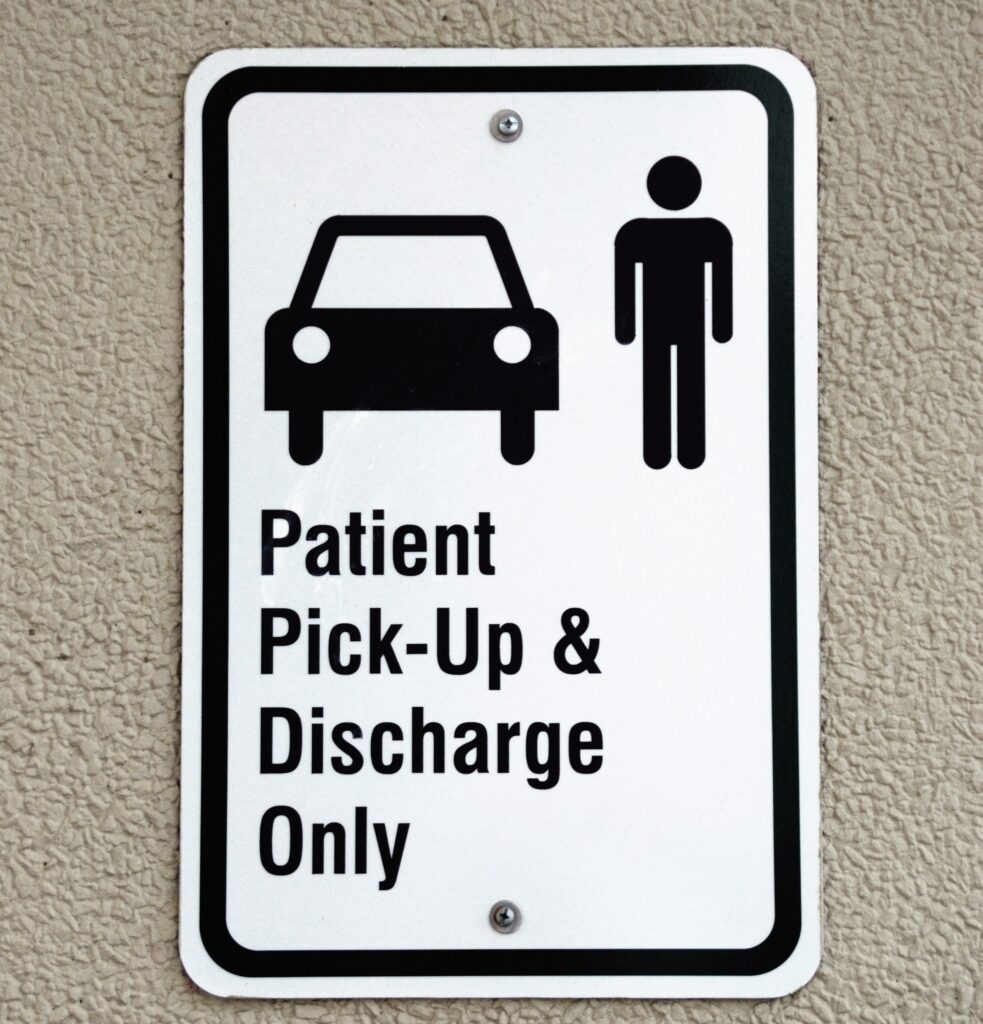 11.Keep Away Signs
Keep Away Signs and labels carry instructions to both inform and warn the public. Keep Away signs improve safety by warning unauthorized people from entering restricted areas. It's the duty of company or organization to keep workers and visitors safe from harm, and these signs help perform that function.
Keep Away signs are designed to be noted in one glance. These placements are available with OSHA-compliant signal words, Signs, and headings. They are built with industrial-strength material to guarantee they last an extended time in severe surroundings.
Examples of Keep Away Signs include:
Do Not Enter Safety Signs
Keep Clear Signs
No Admittance Signs
Caution Tape
Custom Keep Away Signs
12.Machine Safety Signs and Symbols
Machine Safety Signs and Symbols are designed keeping in view that working and maintaining heavy machinery comes with great accountability. Machine Safety Signs and Symbols make workers' work easier and let manufacturing advance exponentially.
Heavy machines tend to cause threats to workers' safety. Machine safety signs help notify workers of current hazards and train them on what means to evade danger. A company has to protect workers in the workplace; machine safety signs help achieve that task.
Machine signs are designed in different styles, formats, and messaging options. They are made with rigid, industrial-strength material that ensures maximum presentation. Wall signs are mounted on durable 3mm PVC signboards, which make them perfect for lasting strong outdoor or indoor surroundings. Floor signs are made with rough, industrial-strength, low-profile materials robust enough to handle heavy foot and forklift traffic.
Examples of Machine Safety Signs and Symbols includes:
Danger – Keep Hands Clear Safety Signs
Caution – Hot Surface Aluminum Safety Signs
Semi-Custom Machine Safety Signs
Conclusion
Safety Signs and Symbols are essential in any work environment. The preliminary significance of displaying Safety Signs is to stop injury and guarantee staff, and guests are well aware of the potential risks and threats in particular circumstances or surroundings. Without signs, numerous workers would lack the necessary guidance in moments of problem. Workplace owners might find themselves in substantial legal problems if any casualties occur.