Have you seen Traffic sign Boards while traveling? Do you understand what these Road signs mean?
Traffic Sign Boards are universal signs located near the road for the guidance of the public. Road Signs in Pakistan and many other countries are modeled on the British road sign system.
Language however brings some changes which are necessary because Urdu speaking population in Pakistan will not be able to read messages written in English.
In Pakistan, the Left-hand traffic system is followed meaning that any overtake has to be done from the right side. Let us dig deep into the details about traffic sign Boards.
Major Types of Road Traffic Signs
Does the public know that an average person living in Pakistan is exposed to hundreds of Traffic Sign Boards every day?
Do you ever wonder who makes these traffic sign boards and What are they based on?
These signposts are used to help increase safety measures. MUTCD also called Manual on Uniform Traffic Control Devices is taken as precautionary guidelines to make signposts.
Based on MUTCD there are four types
U-Channel
Square Tubular
Round Tubular
I-Beam Posts
Types of Traffic Sign Boards offered by Eastern Highway:
Warning Signs in Traffic Sign Boards
A Warning sign is a kind of sign which demonstrates an expected peril, obstruction, or condition requiring extraordinary consideration.
Warning signs are used to alert highway, street, or road users to unexpected or dangerous conditions ahead that might call for a reduction of speed, situations that might not be readily apparent, or an action in the interest of safety and efficient traffic operations such as a curve, detour, sideroad, etc.
Regulatory signs describe a range of signs that are used to indicate or reinforce traffic laws, regulations, or requirements that apply either at all times or at specified times or places upon a street or highway.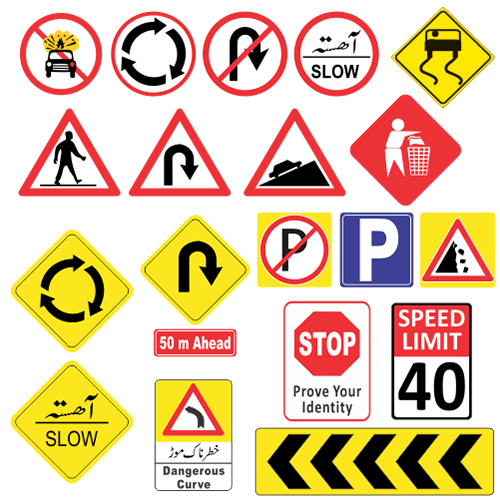 Informatory / Directional Sign Boards
These reflective signs are meant to provide information on direction, destination, roadside facilities, etc. to the road user.
Following informative road signs helps a driver in saving time, and reaching the destination without wandering around. These signs are generally facilitators to the driver.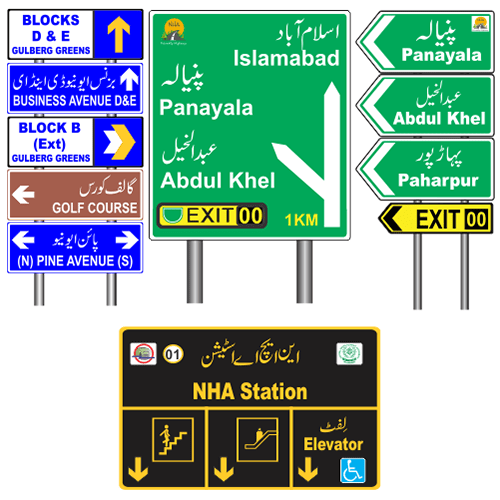 Street Sign Boards
These reflective street signs are used to ease the process of locating a residence.
A striking way to keep your drivers safe, chevron signs show the edge of the road, dangerous curves, or other hazards. Eastern Highway Company has more than 20 years of experience in manufacturing all kinds of signboards.
We have state-of-the-art manufacturing and designing machines to comply with international standards and that enables us to provide the best quality products with complete client satisfaction.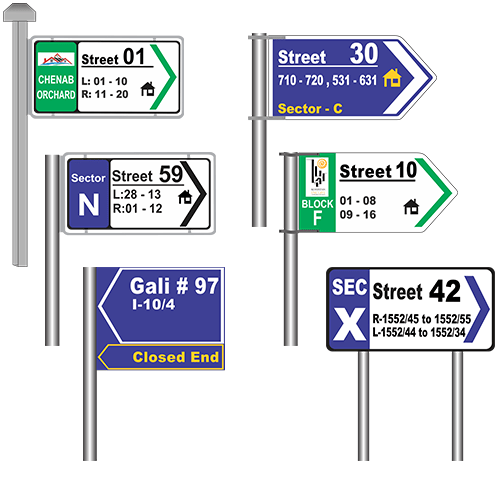 Cantilever Sign Boards in Traffic Sign Boards
Cantilever sign Boards are intended to give information on direction, objective, side of the road offices, and so forth to the street client.
These reflective signs are meant to provide information on direction, destination, roadside facilities, etc. to the road user.
Following informative road signs helps a driver in saving time, and reaching the destination without wandering around. These signs are generally facilitators to the driver.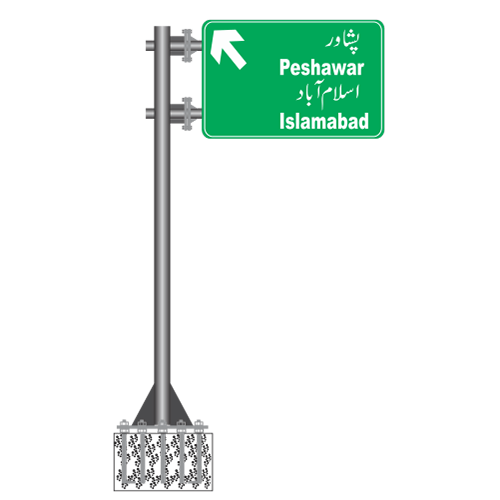 Gantry Sign-In Traffic Sign Boards
Gantry Sign Boards are used on railway signals. They are supported with overhead support. Normally Traffic monitoring systems, cameras, and open road tolling systems are attached to these gantry sign boards.
These reflective signs are meant to provide information on direction, destination, and any necessary information or a message, etc. to the road user. Following informative road signs helps a driver in saving time, and reaching the destination without wandering around. These signs are generally facilitators to the driver.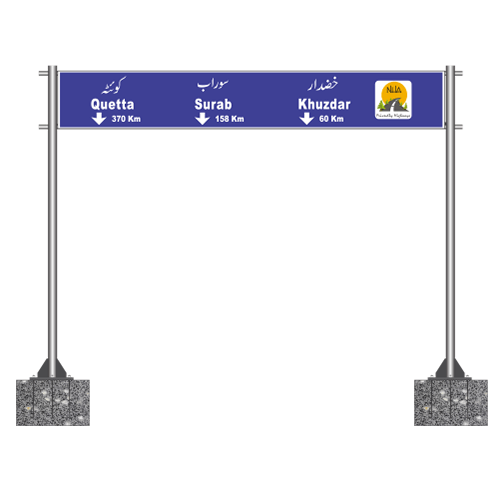 Slogan Sign Boards
These reflective signs convey a message/information to the road users.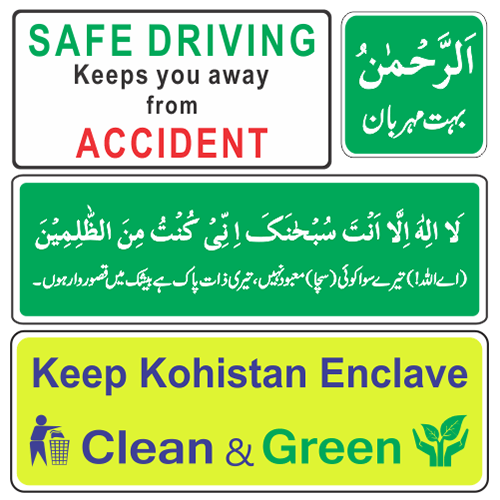 Installation of General Road Signs
Installation of Signs Posts is easier with a Post Driver. It can either be a Manual Post Driver or a Compressed Air Driver. After the Installation of a Post, the Traffic signs are easily seen from the road making the drivers fully aware of their environment.
| | | |
| --- | --- | --- |
| Category | | Description |
| Regulatory-Control | | To give the public very specific instructions A round red sign with a white bar across it means no entry |
| Regulatory-Command | | To tell the public to drive in a certain way A blue sign with a taxi on it means that only taxis may use that lane or area |
| Regulatory- Prohibition | | To prohibit the public from driving in a certain way A round prohibition sign with a red line through an arrow pointing right means that there is no right turn allowed |
| Regulatory- Reservation | | To inform the public that a particular lane or area may only be used by a certain type of vehicle A vertical rectangular sign with a bus on it means only buses may use that lane or area |
| Warning-Direction of movement | | To warn the public to anticipate something up ahead A triangular sign with a bicycle on it is telling the public to anticipate cyclists |
| Guidance- Location | | To let the public know where the public are A white sign with a name and the highway symbol lets the public know what highway public are traveling on |
| Guidance-Route markers | | To give the public information about the route public are traveling on A green sign with the names of close towns and numbers lets the public know how far public are away from these places in kilometers |
| Guidance-Tourism | | To inform the public of nearby attractions and places of interest |
| Temporary- Prohibition | | To warn the public that they are temporarily prohibited from driving in a certain way |
| Temporary-Warning | | To give instructions when a portion of the road is under construction /accident scene |
Why are Traffic Sign Boards Important?
Traffic signs give knowledge to drivers and others. They are set up to keep the public safe. It gives messages to drivers and walkers that can keep everything under control and decrease mishaps. Disregarding them can be hazardous.
Road safety signboards or the "stop" sign can be tracked down in different states across Pakistan. It would be hard to tell what to do on the off chance that the signs were not steady. The streets would be very perilous. While there's no assurance that everybody will constantly adhere to the guidelines, on the off chance that they don't, there will be ramifications.
Traffic road signs regularly use pictures, like a creature crossing or youngsters at play, to pass on a message. It helps anybody who doesn't communicate in the country's language in raising the sign's importance. Colors are additionally significant. Red demonstrates that a driver ought to stop or yield, while yellow shows alert.
The best advantage of road signs is driver wellbeing. Our streets would be turbulent and perilous without them.
Drivers would have no clue about when to stop, yield, or travel at what speed. They would know nothing about approaching challenges. Because of the absence of signage, foolish drivers would be allowed to do anything they desired, jeopardizing themselves and different drivers. The principles of the street are clarified by traffic signs, which guard drivers.
History of Traffic Sign Boards
First Road Sign in Ancient Rome
Street signs and traffic sign boards have been utilized since the hour of the Roman Empire. Streets can be followed back to the Bronze Age; however, the Romans were the ones who took the thought and went for it.
The arrangement of streets they constructed, including scaffolds and passages from Portugal to Constantinople, empowered them to move armed forces quicker.
This additionally permitted them to acquire more individuals and merchandise. This intends that with a solid street framework, Rome had the option to become effective
Road Signs in the Middle Ages
Roman road systems were all the while being utilized during the Middle Ages. This was the period that depicts Europe from the fall of Rome in 476 A.D. to the fourteenth hundred years.
During this time, different signs sorts were put at the intersection to point or direct individuals toward various towns. In any case, after the fall of Rome, streets were not generally kept up with, which made transportation testing.
Notwithstanding, when the New World was found, it assisted Europe with working on its systems of transportation.
Early Road Signs
A large portion of the early street signs, similar to the ones made by the American Automobile Association, was made of wood and were put on iron sections. In the end, a ton of the old signs were utilized to supply metal for World War II.
The principal stop sign was introduced by Detroit in 1915. It was a pair of foot sheets of metal that highlighted dark lettering on a white foundation.
Early street signs were not smart, and they had no normalization between various government organizations.
With this, vehicles were slow, and drivers expected to keep an eye out for different vehicles and hindrances themselves. At the point when traffic started to increment during the 1920s, and individuals begin to go on streets that they are curious about, the requirement for a uniform look on street signs started.
Other Road Signs with Meanings
The manual for street signs is continuously being amended to work on the well-being and productivity of movement. Today, the public can see a wide range of varieties and states of street signs wherever open go.
What's more, these vary in each spot or country public visit. In Pakistan, here is a portion of the present-day street sign tones that the public could experience:
| | |
| --- | --- |
| White background | Regulatory signs |
| Red | Stop, yield, and prohibition signs |
| Blue | Road service, evacuation routes, and tourist information |
| Green | Directional guidance and permitted traffic movement |
| Yellow | General warning messages |
| Fluorescent yellow or green | Pedestrian and school crossing |
| Brown | Guides to recreational or cultural interest areas |
What is the future of traffic sign boards manufacturing?
The requirement for new traffic sign boards is continuously developing and changing, particularly to stay aware of headways in innovation and present-day ways of life. In certain spots, signs are going computerized.
Has the public seen climate or traffic warning signs along the expressway?
A traffic sign needs to be eye-catching and intelligible. Then, a sign should have the option to immediately impart a message. With regards to street signs, basic is ideal.
Other Common Traffic Sign boards
There are many other sign boards that are used for roads. They include pedestrian signs, yield signs, construction zone signs, speed limit signs and railroad crossing signs.
Traffic Sign Boards Design in Pakistan
Eastern Highway has thoroughly researched all these needs in Informatory or Directional Sign Boards. Over all these years traffic sign boards in Pakistan have seen momentous improvement.
Traffic sign Boards are very important for the smooth running of traffic. Recognizing the deficiencies and dire need Eastern Highway has launched its products based on international standards.
Eastern Highway urges the public to reach them today for all open ADA, custom inside or outside signage, Warning sign boards, Cantilevers sign boards, and road or Parking signage needs.